The Bougainville Copper Foundation (BCF).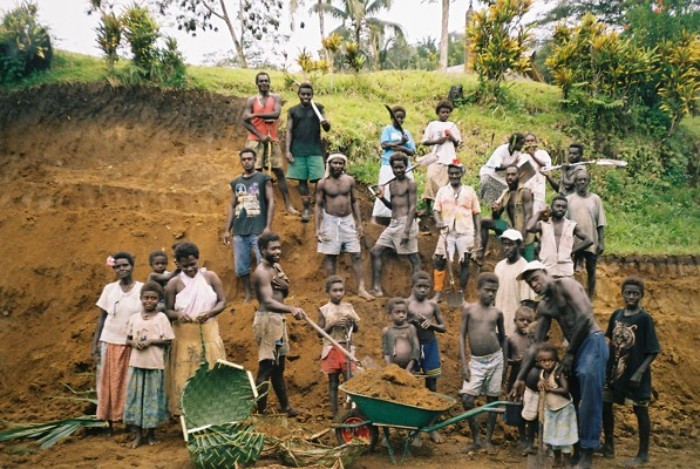 Youths in Central Bougainville
Like many other developing regions in the world Bougainville has a huge number of minors who are in need of good education. A well educated youth is the best investment money can buy.
Axel,
Thank you very much for your support for BCF as at present out of the total number of Bougainvilleans 50% are from the six BCL mine leases. For example for this year's total of 24 sponsorships, 12 are the children of Panguna Landowners. The total number of Bougainvilleans sponsored every year is depended on what amount is set aside by the Board each year depending on the previous year's earnings by the company. This is why we as Bougainvilleans must support our President John Momis' and his Government's move to re-open Panguna mine and this is not secret that the majority of Panguna Landowners too want the mine re-open.
In this respect the Panguna Landowner's Association wants ABG and the National Government to speed up the process of Bougainville Copper Agreement review through their Joint Supervisory Body meetings.
On behalf of Panguna Landowners I thank Mr. Axel G. Sturm for this donation.

Lawrence Daveona
PLA Executive Member/Secretary
Port Moresby,
September 14th, 2010
The Bougainville Copper Foundation (BCF) is a non-governmental and non-profit organisation founded by Bougainville Copper Limited shortly after the company started mining on the island of Bougainville. BCF is administrated by representatives of Bougainville Copper Limited (BCL) and people of Bougainville as well. Since its beginnings the Bougainville Copper Foundation supports children's education on the island and gives scholarships to those who cannot afford attend a college or to study outside Bougainville. Furthermore BCF also donates to regional health services if needed.
The Bougainville Copper Foundation is funded by BCL and donations. Since the outbreak of the Bougainville Crisis in 1989 the funds of BCF shrank but nevertheless the Bougainville still maintains supporting the people on Bougainville - until today.
You're very welcome to support BCF's work on Bougainville, so please contribute to:
Name : Bougainville Copper Foundation Limited
Bank : Bank of South Pacific
Branch : Port Moresby
Account Number : 1000586801
BSB Number : 088 294
Swift Code : BOSPPGPM
If you prefer to transfer your donation to an European bank account, you may also use the ESBC's account! Please advise us that your money is meant to be forwarded to the Bougainville Copper Foundation !