bougainville
arts
On this site the ESBC intend to present native artists who are living and working on the island of Bougainville.
from Post-Courier, August 3rd, 2010
Nippon the artist . . .
By GORETHY KENNETH
THIS is a story about a man from Buka Island, who still regrets to this day, why he never pursued an arts or drawing/painting career to fulfill his dream of becoming one of the country's – top drawing/painting artists.

Gerard Luff, widely known in Bougainville as Nippon, failed short of ideas to apply in his school leavers form in grade 10 to pursue a creative arts career despite having gone through tough times with his grade 10 certificate. Nippon has been drawing all his life, now making billboards, school sign boards, banners for the government, non-government organizations, churches, tsuhana's or Sepik's version of haus tambarans (Buka style) and most satisfyingly creating teacher's illustration drawings for schools in Bougainville.
Nippon did his prime years in Lontis Primary School – but despite being big momma's baby, he always wanted to show his independence in paintings, drawings and illustrations at an early age. Nippon attended Buin High School for two years in 1977 and 1978 before moving to Arawa High School in 1979 and later finally settling for a grade 10 certificate at St Joseph's Rigu High School 1980 – once Papua New Guinea's top boy's school. Within those years, his interest in drawing and painting never ceased – he only failed to further his career when he dropped out of Grade 10, not goin on to grade 11 because of reason's only known to this energetic man.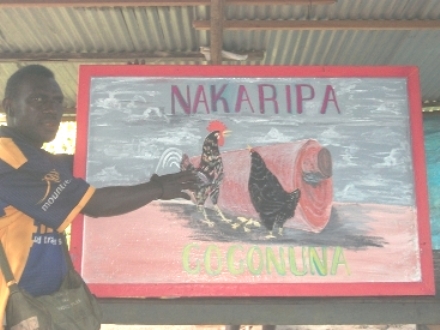 Nippon did not get a scholarship to further his Grades 11 and 12 because he was probably thinking about a higher career, instead he spent three years at home helping out with gardening and raising a family with wife Elizabeth. Within these three years, Nippon was already way into his painting career in the village, where he was doing paintings for his own house, his family and for fun. The following year, 1984, Nippon secured a job at the Tunuru service station until the crisis broke out in 1989, which forced him to return to his village, Gogonuna in Buka. At this work place, Nippon used to collect left over paint tins to do his paintings and drawings for fun. Then came the Bougainville crisis and apart from being a Bougainville Liberation Front man, he started carving sculptures, still painting and drawing and leaving his sign (Nippon) everywhere as a hobby.

"I have now realized I made a mistake when I applied for other courses when I actually should have taken arts as I am talented for this trade," Nippon as he is well known said.

"I never had an official training or education on this art but I am really good at it. I still want to further my education but I guess it is too late. I am a master already in drawing, painting and doing sculptures," he said. "And I try my best to be very good at it when dealing with colours, paints and tools of arts."

It was not until 2002 that Nippon joined the Buka Metal Fabricators company, which ventured into an oil factory as well – as the liaison officer – a job he's held till now. Now at 47, Nippon boasts successful school boards, church paintings and boards, non-government organization boards and drawings, traditional house paintings, banners and teacher's illustration drawings. The author of this article had the honour of being presented with a sculpture of mother Mary carved from sea corals and it is perfectly painted to depict those sold in shops all over the world. As seen in this picture, Nippon is showing off his painting done for his tsuhana (haus man) which can be seen at the Gogonuna Tsuhana.