Leonard Fong Roka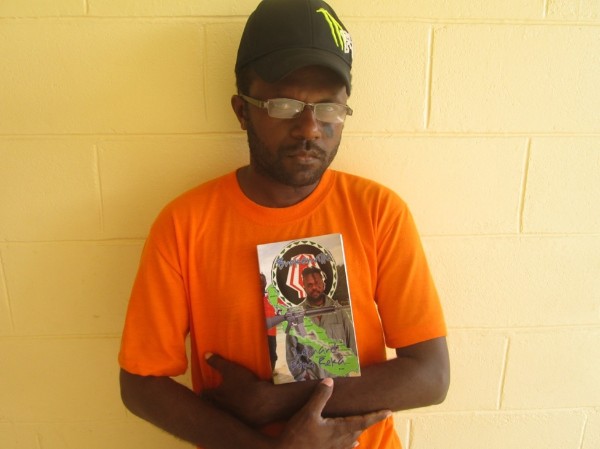 06.06.2014
Source: Bougainville24

Roka drives literature forward
By Timothy Poroda

Leonard Fong Roka, one of Bougainville's leading writers, hails from Panguna District in the heart of the island, born to parents from Bougainville and West New Britain.

Roka started his formal education since 1986 in Central Bougainville but, like many of his contemporaries, it was cut short by the crisis and the Papua New Guinea Defence Force blockade of the island.

It was 1990 when Roka's education was interrupted, he had yet to complete grade four at Kaperia Community School in Arawa.

In 1994, after four years in the Kupe Mountains, Roka was able to return to school. This was made possible by peace process spearheaded by the Bougainville Transitional Government and its leader, the late Premier Theodore Miriung, which reestablished schools at Arawa.

After completion of his primary education in 1996, he entered Arawa High School in 1997 and it was there that he was encouraged by his English teacher, an Eastern Highlander by the name of William Mania, to write stories and poetry about Bougainville.

"Mr Mania told me to write about Bougainville and promote my identity and dignity that was under threat from external domination and influence," Mr Roka recalled.
"However he only told me to write without giving literary tools to guide me."
"In Grade 9 my English teacher, Mr Don Hadden, a Kiwi author and ornithologist gave me all the vital literary tools to write, with a better understanding of the English language."

In 2003 Roka enrolled at University of Papua New Guinea, where Literature was to be his major.

Due to financial constraints he prematurely left the university and returned home, where he was to remain in the Tumpusiong Valley for seven years.

During this long absence from education Roka became the subject belittlement, targeted as a university failure, and he became increasingly isolated.

The unexpected outcome was that Roka was left with time to write, what he was really interested in.

He wrote about anything that arose from his own world and experience and during the seven years he formed the basis for two of his future publications.

Around 2009 a book published by the Divine Word University Press found its way to him in Panguna and struck a chord.

"I cannot recall the book, but it took my heart," Mr Roka continued.
"I thought if I became their student the Divine Word University could help publish my two works."

"Therefore, I applied and was accepted in 2011, but my plan was not possible so I was down."

In 2011 Leonard came across PNG's annual literature competition, the Crocodile Prize, and it reinvigorated his desire to write.

"I began writing for it," Roka recounted, "the editors there helped me greatly to maintain and improve my writing."

In 2013 Roka's hard work paid off when he was awarded the Crocodile Prize for best short story, for his piece Farewell My Bougainville Prophetess.

Philip Fitzpatrick, a writer and founder of the Crocodile Prize wrote of Roka:
Leonard's style is distinctive in that it is his own invention. However, there is nothing experimental about it. He doesn't consciously set out to write in the manner in which he does but his writing is largely instinctive and comes from somewhere deeper.

Leonard's writing is also refreshing because it promises much for the literature of not only Bougainville but also for Papua New Guinea and the greater Melanesian realm.

A successful 2013 was capped off with the publication of two books by Pacifica Sene. The Pomong U'tau Of Dreams is a collection of 167 Bougainvillean poems and Moments In Bougainville is a compilation of 16 short stories.

His third book, Brokenville, was published in March this year and is Roka's personal account of the civil war that raged for a decade.

Roka is now studying in his final year at the Divine Word University for a degree in Papua New Guinea Studies & International Relations.