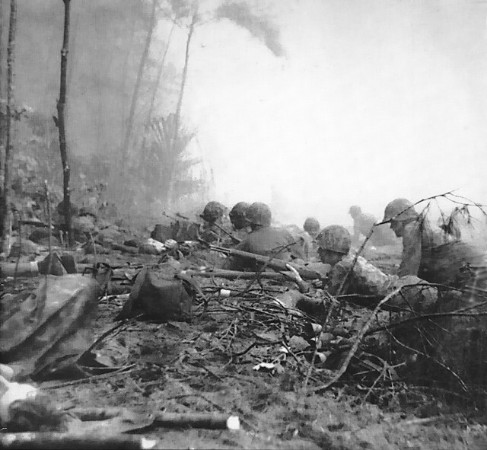 U.S. Marines of the Third Division hotly engaged with Japanese forces on the beachhead at Torokina, 1943
More Background Information on Weapons on Bougainville.
Bougainvilleans always had weapons. But until the 40ies of the 20th century they used more or less bows and arrows - especially for hunting and sometimes for fighting also.
The break-out of WW II brought high performing war technology to the island. Therefore there are even today lots of dangerous weapons that had been left behind by fighting troops from Australia, Japan, the United States of America or others.
See here a choice of historical videos of these WW II battles.
Related historical books concerning WW II in Bougainville that were published in 1943 and 1946 you can find here !